Shamsian Stud Side Table
£1,320
The Shamsian collection is inspired by Bethan's family heritage and her extensive travels throughout the Middle East. It references carefully observed details from the way the sunlight falls across the castellations of the fort at Nizwa to the billowing sails of traditional Omani boats.
'My family heritage and my own travels and research continually draw me to Middle Eastern art and culture as a source of inspiration. Oman is an incredible place – the fort at Nizwa really captured my imagination.'
The collection is characterised by intricate yet harmonious patterns that capture cultural stories in collaboration with local artisans in a way that resonates with both the people to whom those stories belong and audiences all over the world.
'Even the most complex pattern becomes harmonious when you get it just right. I think my instinct for geometry comes from my family's Indian and Middle Eastern heritage.'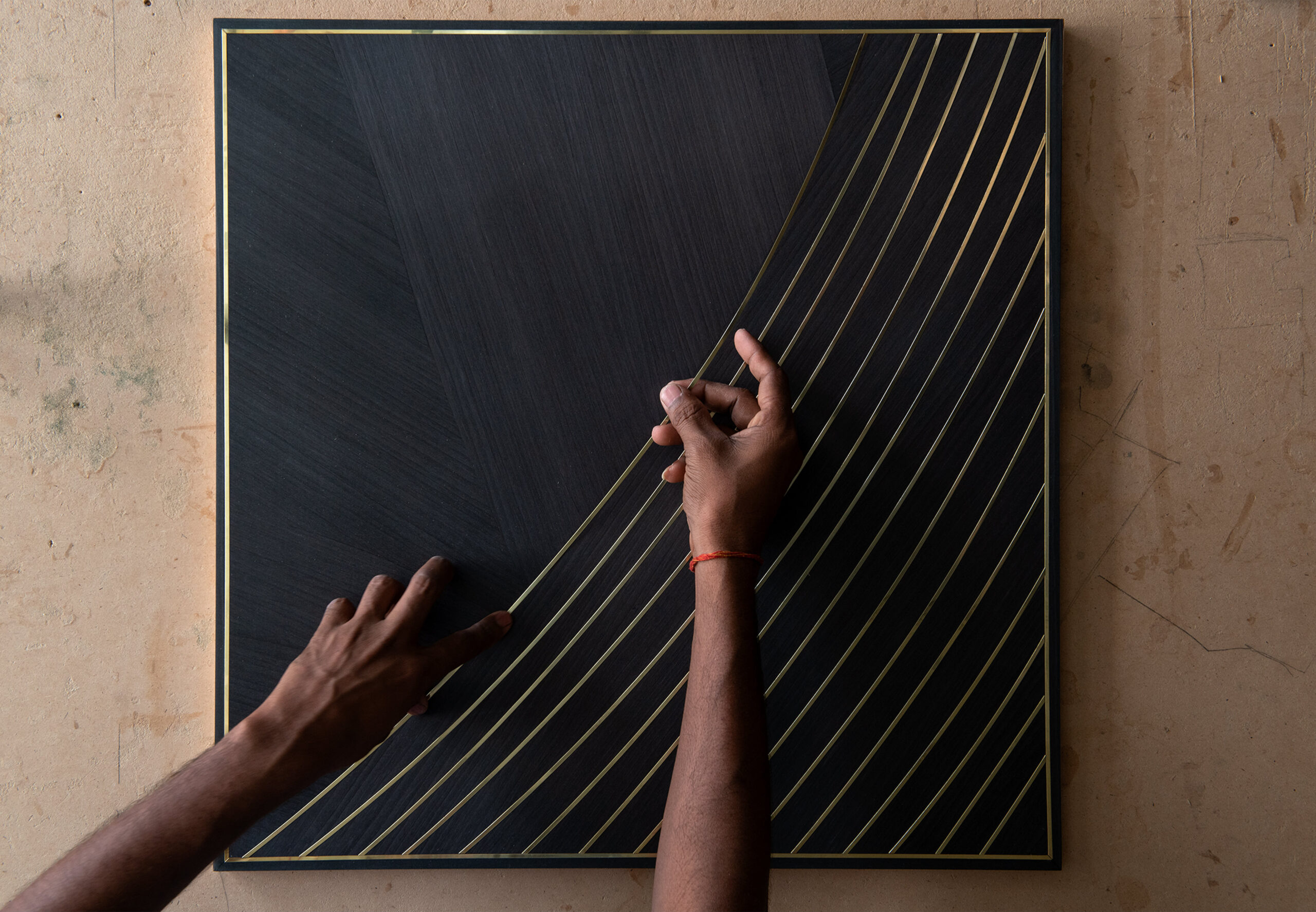 The collection is made in collaboration with master craftsman Mohammad Reza Shamsian and his Muscat-based workshop of highly skilled artisans using ancient techniques, such as 16th-century marquetry, combined with cutting-edge technology and the finest natural materials including marble, hand-stained maple and brass.
'Working with skilled craftsman is at the heart of what I do – it is such a privilege to be able to create contemporary products in collaboration with talented artisans working with such incredible techniques.'
We are always happy to produce pieces to client specifications and can make changes to height, depth, width and internal composition on most collections. Colour variations can be developed on request and we can even create entirely bespoke furniture and homewares. Please contact the development team for further information and pricing.
Bethan Gray Design collections are handmade by master craftsmen, so please allow a six-week lead time for pieces from the collection and eight weeks for bespoke requests.
Bethan Gray Design collections are made using certified and responsibly sourced materials. If you have a specific requirement such as testing for flame retardancy or FSC timber certification, please do not hesitate to get in touch and these can be arranged on request.
We deliver to Europe and North America from our London hub, while deliveries to Asia and the Gulf region are shipped directly from our workshop in Muscat, Oman. (Collection can also be arranged from both locations – please contact our fulfilment team for details.)
Each piece will be individually packaged, and our trusted logistic partners offer a superb service. On arrival, you can choose curbside delivery or a white glove service which includes installation in the room of choice and the removal of crates and other packaging. Shipping times vary according to location, but pieces can be air freighted more quickly for time sensitive projects.
Bethan Gray Design collections are handcrafted using the highest quality materials with naturally occurring variations making each piece unique.
Grain variation is an inherent characteristic of wood and its colour will change over time. Likewise, natural veneers and solid metal finishes age beautifully, creating a unique patina that is one of the joys of these natural finishes.
Wipe clean with a damp cloth, avoiding detergent, polish or waxed-based cleaning products. In the event of a spillage, use a clean, dry cloth rather than anything abrasive.
The cabinetry collection features untreated solid brass feet and rails, which will naturally fade to a matt patina. Should you wish to maintain a more luminous finish, we recommend polishing brass elements with 'Brasso'.
If you have any questions or would like more detailed care advice, please do not hesitate to get in touch with our sales team.