Nizwa Wallpaper
£210 – £378
In her first collaboration with the pioneers of digital wallpaper, NLXL, Bethan has taken inspiration from the traditional forts of Oman for her Nizwa Wallpaper. The design features the technique of marquetry, which was used as far back as the 16th century. It reflects the rounded architectural composition of the forts' castellation's, whilst the detailed mother of pearl patterning creates a stunning iridescence. This variation in shade and iridescent resembles the effect of the sun on the different elevations of the forts.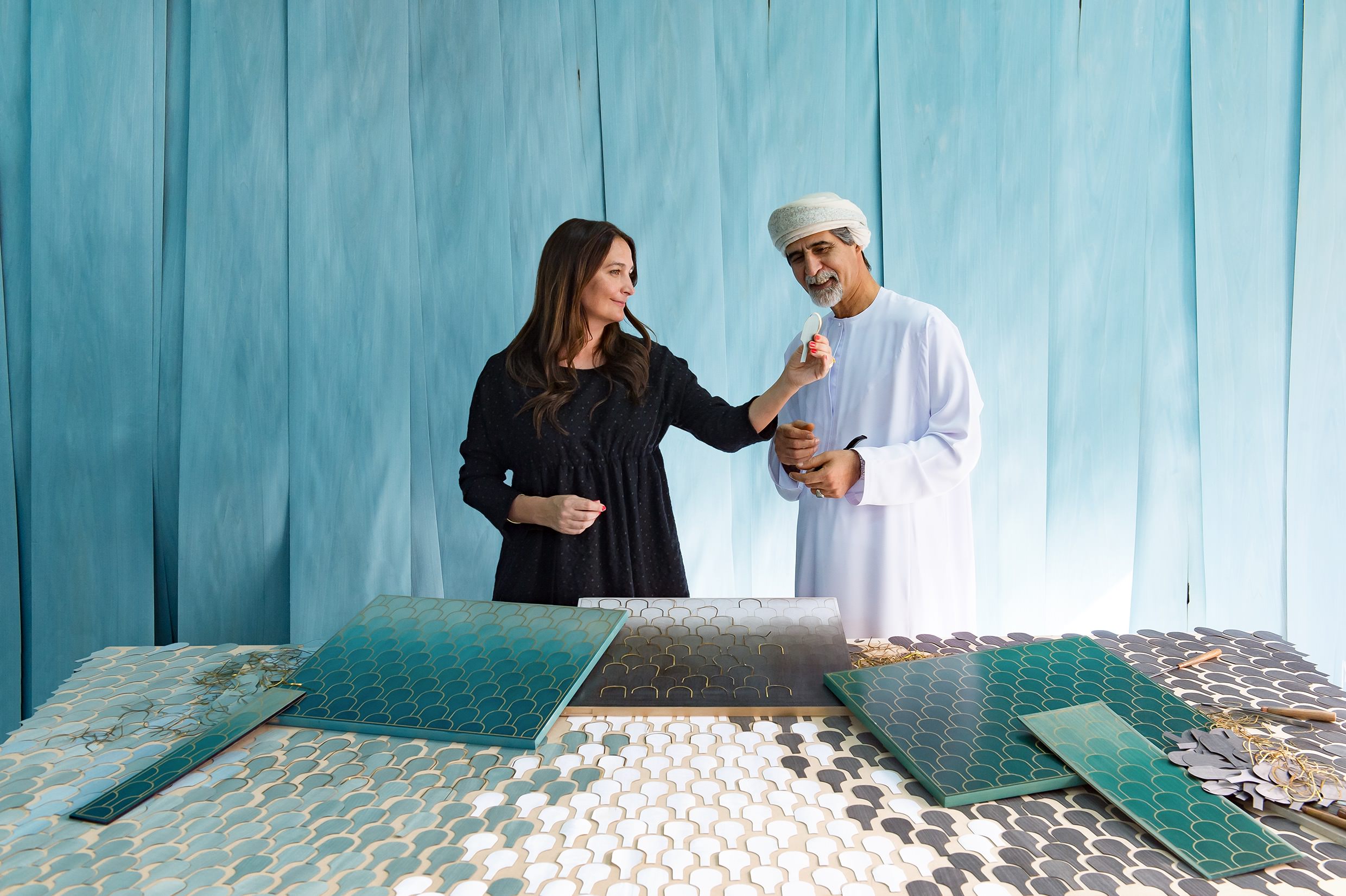 The Nizwa family of furniture is inspired by the rounded castellations of the Nizwa Fort in Oman and the ombré colour effect caused by the sunlight falling across them.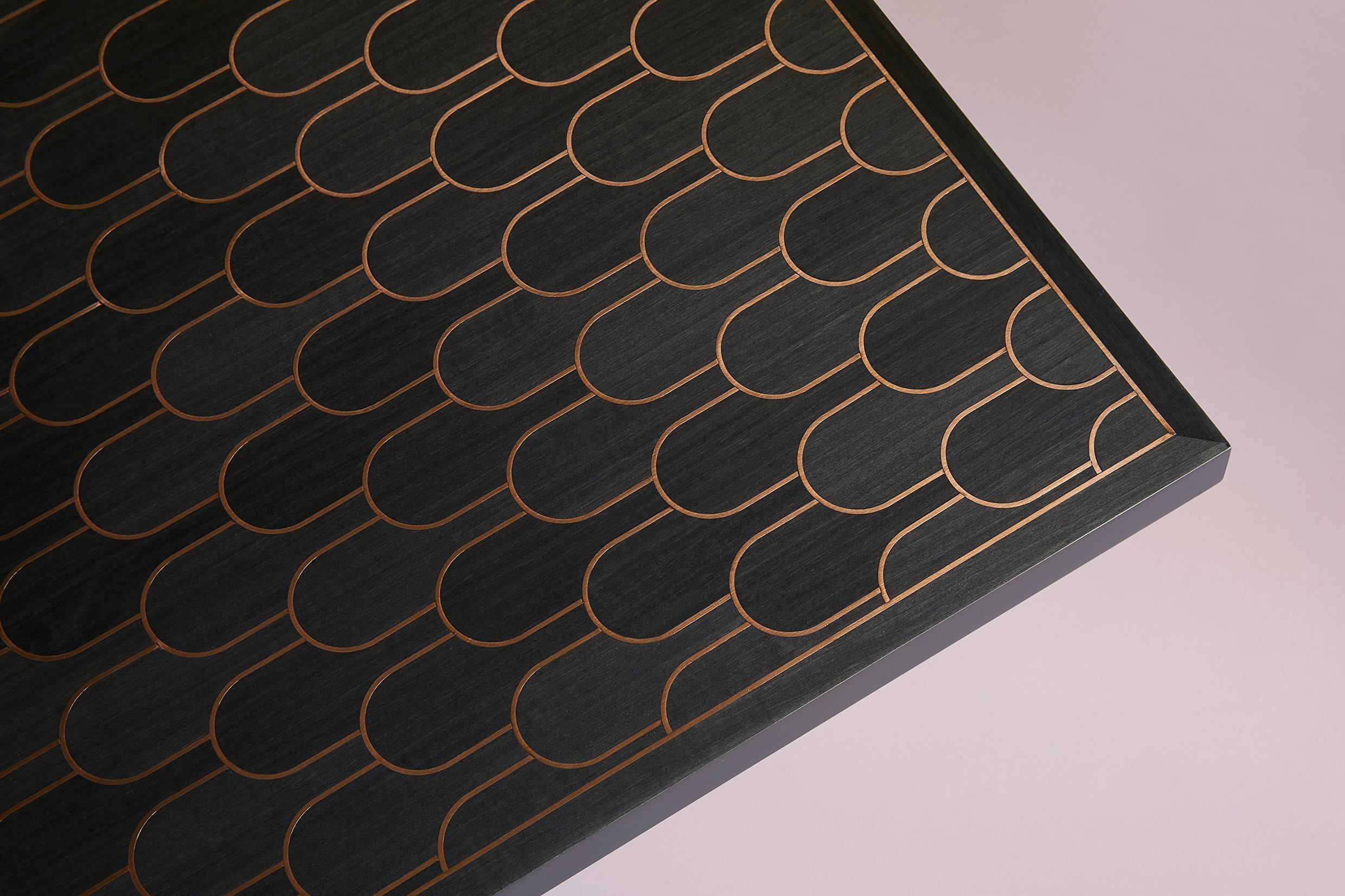 The Italian maple veneers are dyed immediately after being cut from the tree when still 'wet' resulting in deeper, richer colours. The ombré is created by hand-shading the veneer, a technique mastered by our craftspeople in Muscat.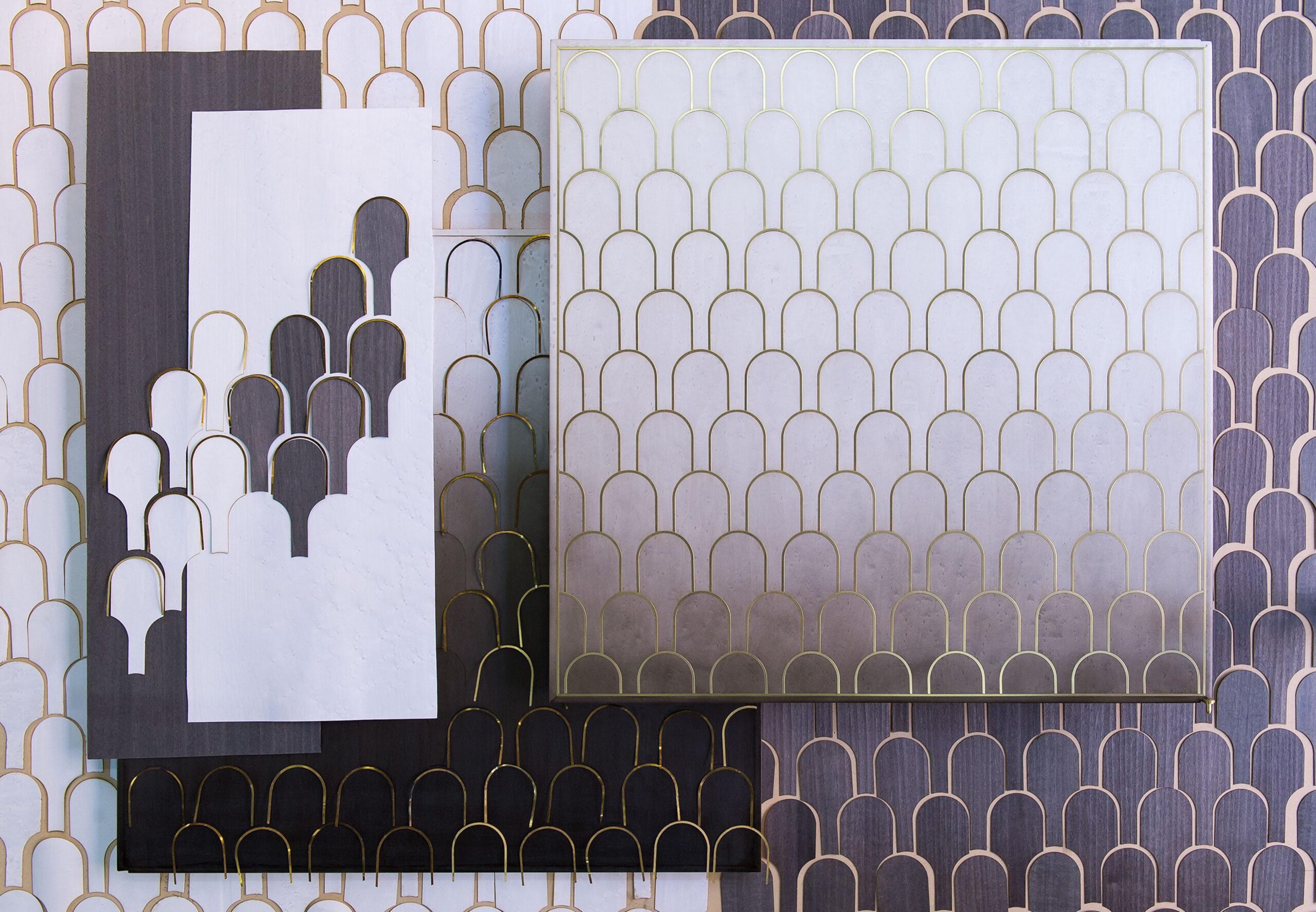 The elegant pattern is meticulously constructed by hand using the ancient technique of marquetry, each door containing one hundred and eight individual elements of solid brass, copper or nickel and one hundred and eighteen maple veneer "petals".
The Nizwa Cabinet is available as a two-door, three-door or four-door, as a 2x2 door and as a chest of three soft-close drawers. Cabinets include adjustable shelves, drawers and cutlery drawers, dependant on size and specifications. The collection also includes two coffee tables, one on four legs and one on a brass, nickel or copper block base.
We are always happy to produce pieces to client specifications and can make changes to height, depth, width and internal composition on most collections. Colour variations can be developed on request and we can even create entirely bespoke furniture and homewares. Please contact the development team for further information and pricing.
Bethan Gray Design collections are handmade by master craftsmen, so please allow a six-week lead time for pieces from the collection and eight weeks for bespoke requests.
Bethan Gray Design collections are made using certified and responsibly sourced materials. If you have a specific requirement such as testing for flame retardancy or FSC timber certification, please do not hesitate to get in touch and these can be arranged on request.
We deliver to Europe and North America from our London hub.
Each piece will be individually packaged, and our trusted logistic partners offer a superb service. On arrival, you can choose curbside delivery or a white glove service which includes installation in the room of choice and the removal of crates and other packaging. Shipping times vary according to location, but pieces can be air freighted more quickly for time sensitive projects.
Bethan Gray Design collections are handcrafted using the highest quality materials with naturally occurring variations making each piece unique.
The high-quality marble used in the Lustre Collection features natural veining and colour differences, which make each piece unique. Marble table tops are protected with a resin that will protect the natural stone. To clean them, we recommend using a very mild detergent and a non-abrasive pad or cloth. In the event of a spillage, use a clean, dry cloth immediately. The solid brass elements of our Lustre tables should be cleaned with a damp cloth, avoiding abrasive cleaners, pads or sponges.
If you have any questions or would like more detailed care advice, please do not hesitate to get in touch with our sales team.